Best Gujarati 5-Sad Shayari With Photo 2020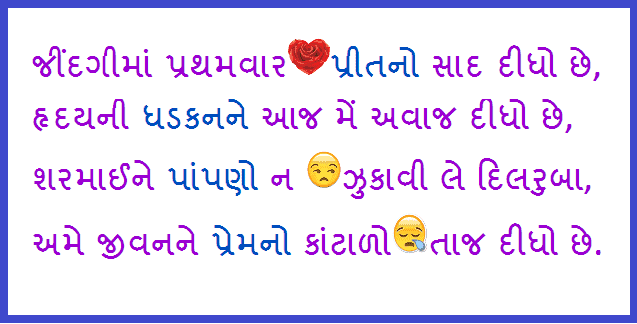 Zindagi Ma Pratham Var Prit No Sad Didho Chhe,
Haday ni Dhadakanane Aaj Me Avaj Didho Chhe,
Sharmaine Panpan Na zukavi le Dilaruba,
Ame Jivanane Premno Kantalo Taaj Didho Chhe..
Gujarati 5-Sad Shayari With Photo 2020
maari zindagi ni nav no bas tu kinaro chhe,
be sahara chhu etalo ke bas tu saharo chhe,
tu jindagibhar najar same rahe ej zankhana,
bhagyano nhi to pyaar, durbhagyano dularo chhe.
Best Gujarati 5-Sad Shayari
salagi uthi chhe pyaas athar par.
kotarai gayu chhe nam jigar par,
chunti lo koi saram na fulone,
khilya chhe sekando aa gal par..
Gujarati sad Shayari
Tari suvas ne swashma sajavi lau,
ane pachhi tane bahupashma samavi lau,
tara unnat yauvan par mastak muki,
dhimethi vaat kahi vishwas ma samavi lau..
Gujarati sad Shayari for love
jigarma vasaine jinadgi sajavi lidhi,
rang ke pinchhi vagar tasvir utari lidhi,
tamane puchhavano pan samay na rahyo,
pralay ni ame duniya vasavi lidhi..
Read More Shayari
Join a Social Media ➥  Fb Page | FB Group  | Twitter  | Telegram | Instagram
मेरा नाम पूजा है में गुजरात से हु, आपको मेरी कोई शायरी पसंद आये तो उसे अपने दोस्तों के साथ जरुर शेर करे और पोस्ट के निचे दिये रेटिंग से उसे वोट करे. आपको ये website कैसी लगी Comment करके मुझे जरुर बताईये.
Trending