A friendship shayari in gujarati
Good Morning Friendship Gujarati Shayari
Image : Good Morning Gujarati Shayari
Kyak ujarda To Kyak MALAM malshe,
Sabandhe sabandhe thodo FARAK malse,
Nibhavsho sabandh snehthi to
kyak LAXMAN to kyak SUDAMA malashe.
क्याक जुदाई तो क्याक मलम मलशे,
सबंधे सबंधे थोडो फरक मलशे,
निभावशो सबंध स्नेहथी तो क्याक
लक्षमण तो क्याक सुदामा मणशे.
https://www.shayarikakhajana.com

Trending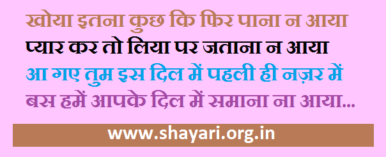 #Hindi Shayari Photo
खोया इतना कुछ कि फिर पाना न आया
प्यार कर तो लिया पर जताना न आया
आ गए तुम इस दिल में पहली ही नज़र में
बस हमें आपके दिल में समाना न आया...
shayari.org.in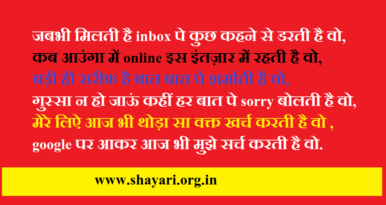 #Hindi Shayari Photo Love Shayari whatsapp status
जबभी मिलती है inbox पे कुछ कहने से डरती है वो..
कब आउंगा में online इस इंतज़ार में रहती है वो..
बड़ी ही सरीफ है बात बात पे शर्माती है वो…
गुस्सा न हो जाऊं कहीं हर बात पे sorry बोलती है वो…
मेरे लिऐ आज भी थोड़ा सा वक्त खर्च करती है वो …
google पर आकर आज भी मुझे सर्च करती है वो..🌹🙏😩😜😜🌹💓😍😀😀
My Sweetheart